Welcome
Welcome to POSTCLICK your one stop web destination for innovative web design, search engine optimisation and social media marketing.
Find out how your business can grow online by incorporating our online media marketing packages, PPC and paid advertising along with state of the art SEO and web design.
You should not restrict your optimization efforts only to your site. You should consider other platforms that you use, and especially social media. This mostly means optimizing the content on those platforms with the keywords you want to rank better higher.
SEO / Web Design Services
January 6, 2015
Search engine optimization is not a one-off event. You have to keep doing it for your site to remain visible to the main search engines, and this is why we offer monthly no lock in contracts. Even when you have attained the best rank, you have to keep optimizing your site to maintain the position.
You need links from other websites to rank well. Unlike in the past when the most important factor was getting many links, nowadays you need links from reputable websites, which is where our services come in. One way to get such links is by having useful content on your website. This will prompt people to link back to your website in a bid to provide their visitors with additional information.
New Reputation Management Service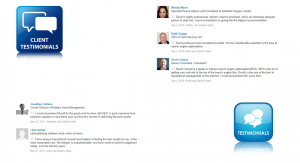 .
January 6, 2015
You need to optimize the content on your website for keywords that have an actual return on investment. You have to define the kind of returns you want.
It is good to avoid keyword stuffing in your content.
.
SEO / PPC Marketing Benefits
March 6, 2015
In order to get ROI benefits on your marketing spend you should try to use the keywords like they are used in normal conversations, or at least try to focus on what people actually search for. This is because search engine algorithms have advanced over the years, and therefore deliver content that is most likely to benefit the user.
With the discussed tips in mind, it should be easy to get good results from your search engine optimization advertising spend. This will ensure that people find your website easily when they are looking for solutions online.
.
Our SEO Work
Whether its new registrations, sales, or any other goal, you must find out which keywords deliver better results. This way, you will not rank for keywords that people do not search for.